Gallery Links
Landscape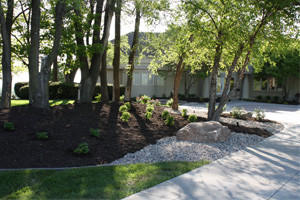 Sevening's Landscape takes pride in each project we make. With our professional landscape designers on hand, we will work with you to create the outdoor environment of your dreams. From installing a few plants, to completely revitalizing your property, our landscape designers will assist you along the way.
We don't stop there! Caring for your landscape is a year-round activity. From early spring trimming of plants to the end of the year landscape bed clean up, Sevening's Landscape will do it all. Spring and fall mulching will spruce-up the looks of your property while protecting the plants, trees, and flowers that decorate your yard. Selected seasonal trimming will ensure that the plants are cared for during the optimal time of the season.
Don't wait! Call us or contact us today!